Sono stati rilasciati i risultati delle visualizzazioni degli Esports su Twitch per aprile 2017 ed ovviamente non ci sorprenderanno: League of Legends, Dota 2 e Counter-Strike: Global Offensive continuano a regnare.
Ma quali sono stati i canali Twitch con il più alto numero di visualizzazioni in aprile?
Classifica Aprile 2017 secondo EsportsCharts
EsportsCharts ha rilasciato una classifica, dichiarando che il canale con il maggior numero di visualizzazioni nel mese di aprile è stato NALCS1, il canale della Championship Series di League of Legends del Nord America.
Il canale ha raggiunto il picco di visualizzazioni il 24 aprile durate la sfida TeamSoloMid vs. Cloud9, con un totale di 417,046 visualizzazioni.
Gli LCS europei si trovano invece in quinta posizione con un picco di 186,468 visualizzazioni il 23 aprile durante G2 vs. UoL.
La Major di Dota2 si trova invece in seconda posizione sfiorando quasi le 400,000 visualizzazioni il 30 aprile durante VP vs. OG, trasmesso sul canale Russo DotaMajorRU. La versione inglese dello stesso stream si trova in quarta posizione con 242, 974 visualizzazioni.
Nel mezzo della Top5 si trova anche il match FaZe vs. Astralis sempre di CS:GO, con 285.204 visualizzazioni il 9 aprile.
I numeri di aprile di questa classifica sono stati comparati con quelli di marzo, dove in classifica c'erano sempre League of Legends e Dota 2, con l'aggiunta di Hearthstone in terza posizione durante la rivelazione della fase finale di Un Viaggio a Un'Goro.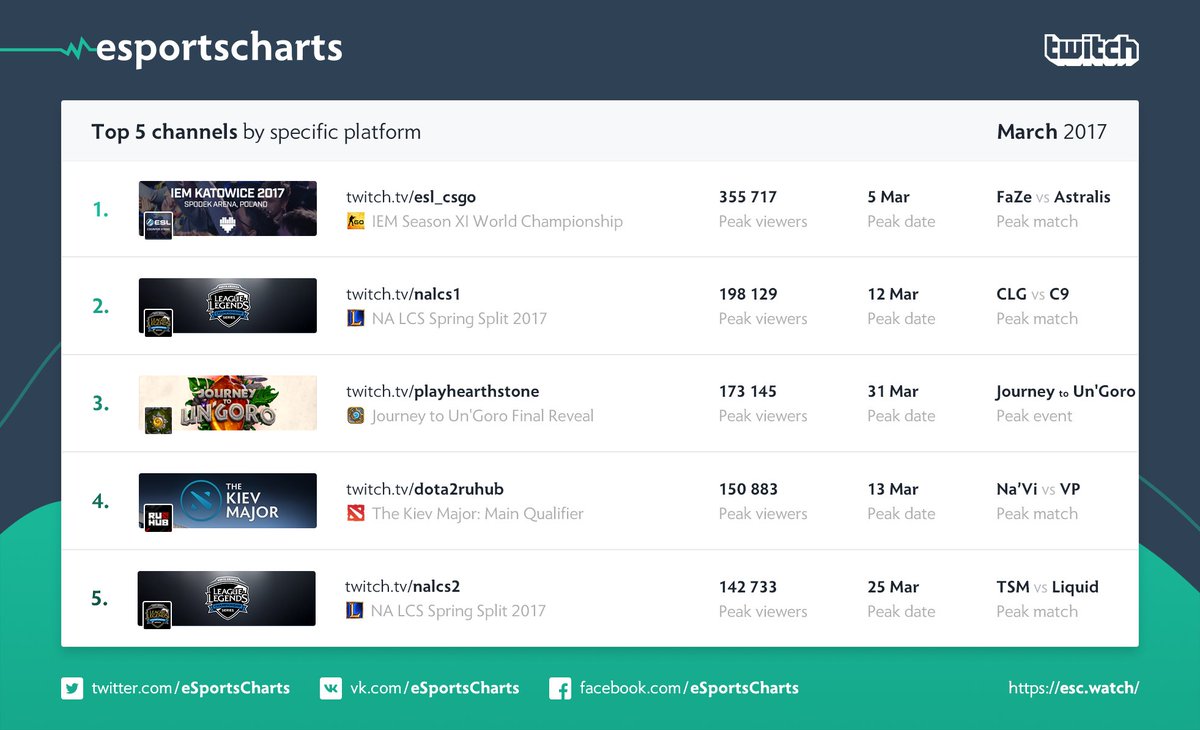 Classifica Marzo 2017 secondo EsportsCharts