Con i mondiali alle porte ogni prestazione dei team Europei o Nord Americani viene analizzata non per il proprio territorio, ma in larga scala paragonando i loro stili agli stili asiatici da sempre considerati esempi da seguire e imitare.
Com'è però la situazione in Corea e Cina? Sono tutt'ora il meglio che ci sia in League of Legends?
LCK
La Corea continua la sua discesa dopo l'MSI: i Damwon, che sono considerati da tutti uno dei pochi team credibili nella regione, hanno dovuto affrontare dei cambiamenti importanti e delle sperimentazioni che non hanno funzionato.
Sono alla finale del summer split che si concluderà questo weekend e gli eterni T1 saranno i loro avversari dopo aver vinto di prepotenza contro i Gen.G nella semifinale.
Faker contro Showmaker è il biglietto da visita per i fan, leggenda contro leggenda.
2021 #LCK SUMMER PLAYOFF BRACKET

See you on August 28th (Sat) for the 2021 LCK Summer Finals match between DK and T1! #WeMakeLegends pic.twitter.com/nESj4I1L1Y

— LCK Global (@LCK_Global) August 22, 2021
Sarà come sempre uno spettacolo, ma i team e giocatori coreani hanno problemi con draft e itemizzazione rispetto alle altre regioni. I game sembrano essere "vecchi" e lenti, un segno non proprio positivo considerando la potenza pura della Cina su tutte.
Manca uno slot da assegnare dei quattro per il mondiale, il sogno sarebbe vedere Chovy fare una "miracle run" e conquistare con il sangue l'ultimo posto disponibile.
LPL
I veri favoriti per il mondiale si avvicinano anche loro alla fine dei playoff che verranno seguiti dal regional bracket che assegnerà gli ultimi due posti per il mondiale 2021 in Europa.
FPX, EDG, WE e LNG sono ancora in gioco e da qui alla fine della settimana saranno solo in due, i finalisti che si scontreranno il 2 Settembre.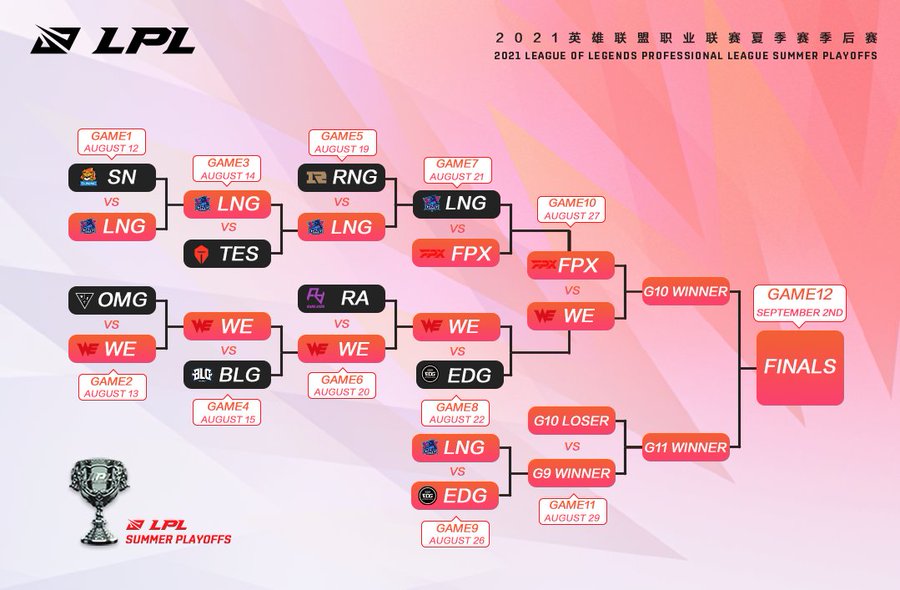 Doinb e compagni al momento sono a un livello esclusivo solo per loro, nessuno nel mondo al momento riesce ad esprimere il loro livello di League of Legends: anche quando sono indietro hanno la proattività necessaria per recuperare e gestire il game.
LWX è l'anello debole, ma la forma attuale del loro midlaner è semplicemente inarrivabile per gli altri, letteralmente 1v9 machine.
Come si stanno comportando gli altri?
Dopo il fallimento di TES, Suning e JDG nuovi team stanno mostrando il loro potenziale in questi playoff.
I vincitori dell'MSI, gli RNG sono stati eliminati dagli LNG, la vera favola dell'LPL.
3 best of five vinte e sono caduti solo per mano di FPX, ma le loro chance non sono ancora svanite: il loser bracket può portarli avanti e gli EDG, come ogni anno, si sciolgono ai playoff come un ghiacciolo sotto il sole cocente di Agosto.
Insieme agli LNG i WE sono l'altra sorpresa: 4 serie vinte fino allo scontro contro Doinb & co. per un posto nella finale e nel mondiale.
Sono impressionanti nel loro modo di giocare e hanno in Shanks, il midlaner, la stella assoluta del team.
Gli intrecci non finiscono con loro quattro , il bracket conta ancora gli RNG su tutti come pretendenti e le serie a venire solidificheranno i valori e le posizioni a venire.
Tomorrow is EDG against the world.

Everyone wants EDG to lose:
-FPX would guarantee worlds
-RNG guarantee 2nd seed if FPX win
-LNG would continue their deep run
-WE always want EDG to lose.

Tarzan vs Viper.
LNG vs EDG.
24 hours time, don't miss it. #LPL

— Joe Fenny (@HeyMunchables) August 25, 2021