Ogni sport di per sè è stupendo, la competitività che ogni giocatore porta aumenta sempre di più e il livello di conseguenza ne beneficia.
I record esistono e durano negli anni, ma eventualmente verranno abbattuti, è cosi che funziona.
Il tutto viene a favore dei fan che, da casa o dagli spalti, possono godere di uno spettacolo non indifferente: assistere a prestazioni da record o giocate da leggenda capita poche volte.
Nell'esport ovviamente non cambia nulla, guardate League of Legends: la dinastia di Faker è qualcosa di indescrivibile e l'ascesa al tetto del mondo di team come G2 è una storia che ha appassionato tutti i fan del mondo mettendo i brividi a chi, come me, fa il tifo per l'Europa durante gli eventi internazionali.
Il compito dei fan però è quello di stare dietro, guardare, ovviamente esprimere il loro disappunto o la loro gioia quando necessario, ma mai e dico mai influire in quelle che dovrebbero essere delle scelte oggettive.
Il riferimento specifico in questo caso va alla votazione dei 3 team all-pro del summer split 2021 in LEC
Looking at the #LEC All Pro votes just feels bad regardless if you are in them or not. It only creates drama because if it's supposed to be a "prestigious" reward for doing good during regular season, it can't be community driven for obvious reasons.

— Erik Wessén (@Treatz) August 24, 2021
Uno split incredibile che ha visto i Rogue come assoluti mattatori della stagione regolare e sorprese come Misfits iniziare a mostrare il loro enorme potenziale.
Sfide avvincenti, il miracolo dei Vitality con il solo 4% di possibilità di arrivare ai playoff e la disgrazia di Schalke e SK, i valori erano ben allineati e la scelta per i migliori giocatori doveva seguire quella linea tecnicamente.
Neanche a dirlo la libertà concessa ai fan ha, in parte, stravolto tutto: sia i giocatori sia chi trattando League of Legends come se fosse una cosa seria si è ritrovato a dover accettare delle scelte a dir poco discutibili.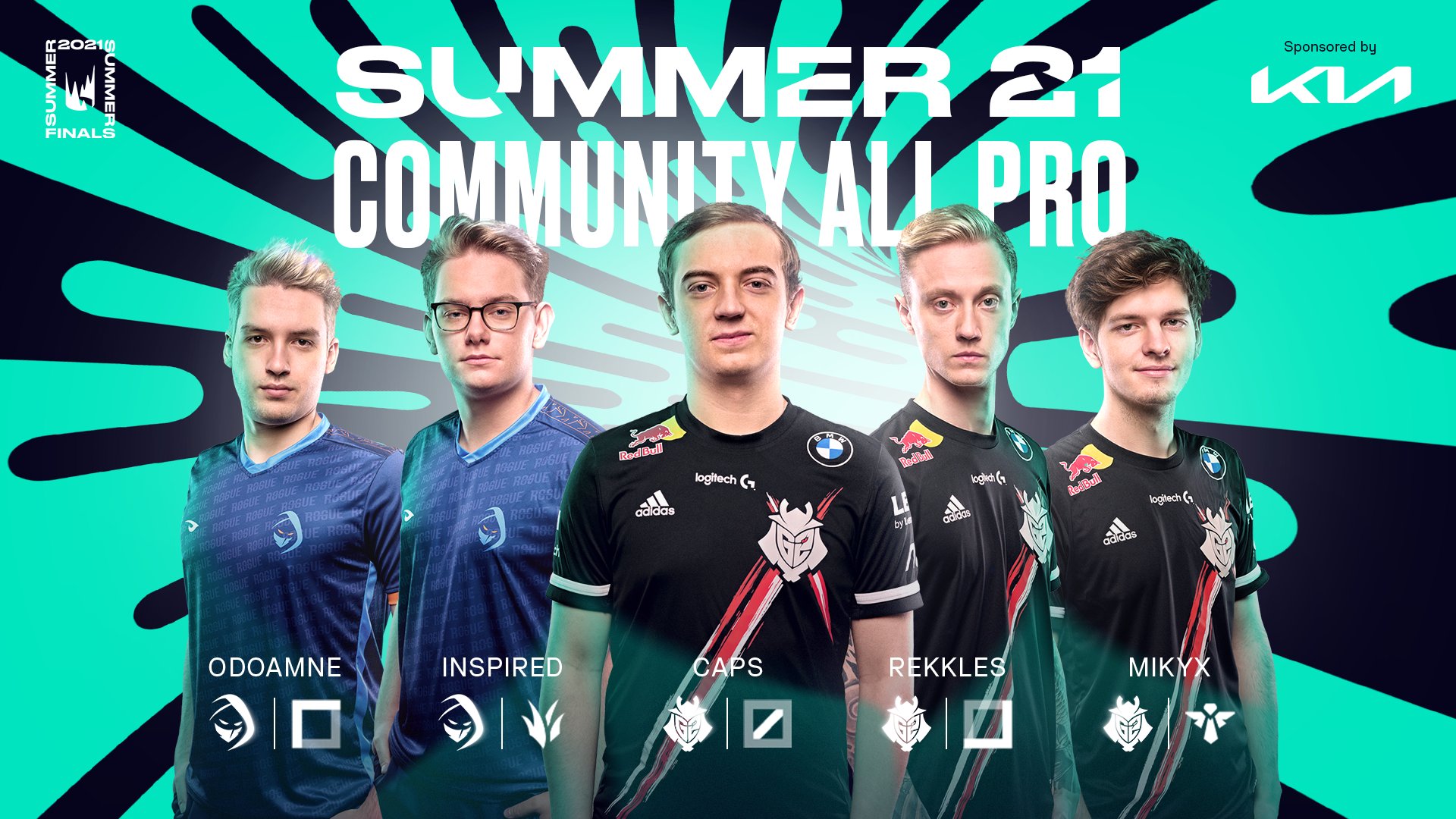 Mentre via via vedrete i vari risultati della votazione la polemica su chi c'è e chi no è aperta e rumorosa: gli addetti ai lavori hanno già espresso il loro disappunto riguardo l'eccessiva libertà data ai fan soprattutto considerando che queste votazioni potrebbero avere un valore importante quando si andrà a discutere di eventuali rinnovi contrattuali.
Mikyx sulla carta è il miglior supporto in Europa perchè mai i G2 starebbero pensando di sostituirlo? Ed ecco a voi l'esempio perfetto del drama che si può creare grazie a delle votazioni assolutamente sbagliate.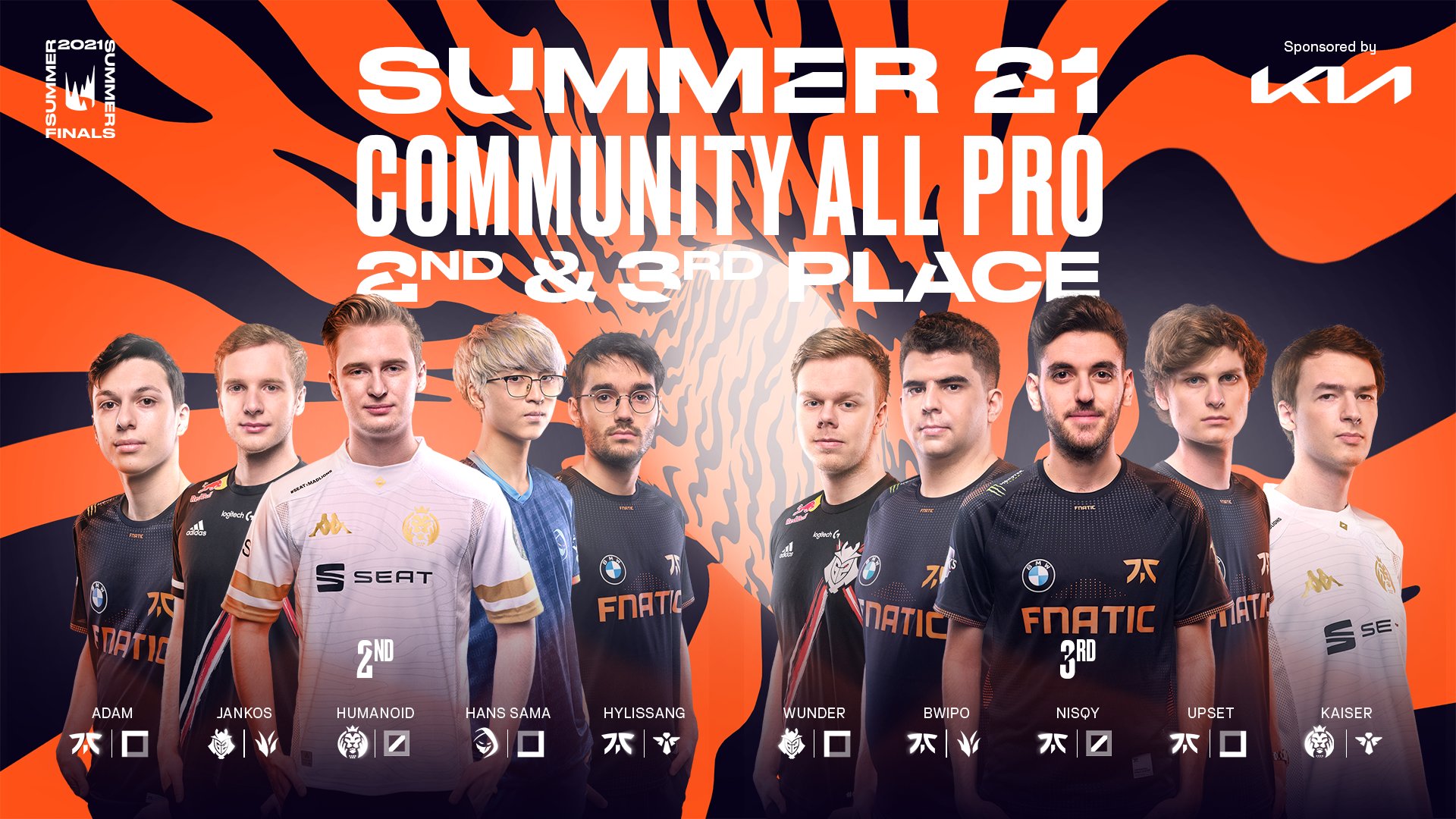 Cosa andrebbe cambiato?
Partiamo in primis da queste squadre, nella prima dovrebbero esserci i migliori e dire che il trio dei G2 sia li per merito è sbagliato.
Hanno avuto una stagione regolare ok, ma non dimenticatevi dello 0-4 filato o della doppia sconfitta contro i Fnatic. Humanoid e Kaiser devono essere nel primo team: sono l'anima dei Mad Lions e soprattutto hanno dato vittorie importanti nei momenti più difficili della stagione, il loro apporto alla squadra è impossibile da non notare.
Hans Sama è di gran lunga il miglior adc in Europa ora, ha dominato tutta l'estate senza sosta su più pick e al momento nessuno si avvicina al livello raggiunto durante la stagione regolare.
Chi invece è rimasto fuori senza meritarlo?
Hirit e Razork hanno ampiamente dimostrato di essere a quel livello ma il branding dei Misfits è ovviamente inferiore rispetto a Fnatic e G2, quindi figuratevi se loro oppure BrokenBlade, un altro che ha avuto una stagione fantastica nel disastro Schalke, possano avere una possibilità o un minimo di riconoscenza.
Il format va cambiato per preservare l'oggettività del mondo competitivo e soprattutto il valore di determinati giocatori che, per colpa dei fan, non possono riscuotere ciò che gli spetta nelle negoziazioni future o anche solo nelle memorie di tutti.
With the #LEC Awards coming up, I wanted to let everyone know that the All Pro voting will remain fan-led in 2021 due to logistical reasons.

That being said, we heard your feedback and will make changes for the 2022 Season to ensure the All Pro awards are as good as they can be.

— Maximilian Peter Schmidt (@RiotMAXtheX) July 30, 2021
G2 e Fnatic sono organizzazioni fondamentali per l'ecosistema Europeo di League of Legends con fanbase che superano di gran lunga quelle di tutti gli altri team LEC uniti; è una gioia per loro e per chi guarda da casa, ma vi prego, non date altra potenza a chi ne ha già troppa, rischiate di rovinare un sistema quasi perfetto.