Si entra nel vivo della competizione!
Gli EU Masters salutano il group stage e 8 dei team partecipanti e si avventurano nell'ultima fase del torneo, la più elettrizzante, la fase finale!
Con l'arrivo delle best of 5 sin dai quarti di finale ogni matchup cambia totalmente, c'è tempo per adattarsi, migliorare nel corso della serie stessa ed infilare un upset a dir poco inaspettato.
I quarti, visibili nell'immagine sottostante, inizieranno oggi con Fnatic Rising vs Movistar Riders. Sulla carta una serie che vede gli spagnoli in vantaggio, ma la crescita dei Fnatic dalla finale NLC è molto interessante e da seguire, venderanno cara la pelle.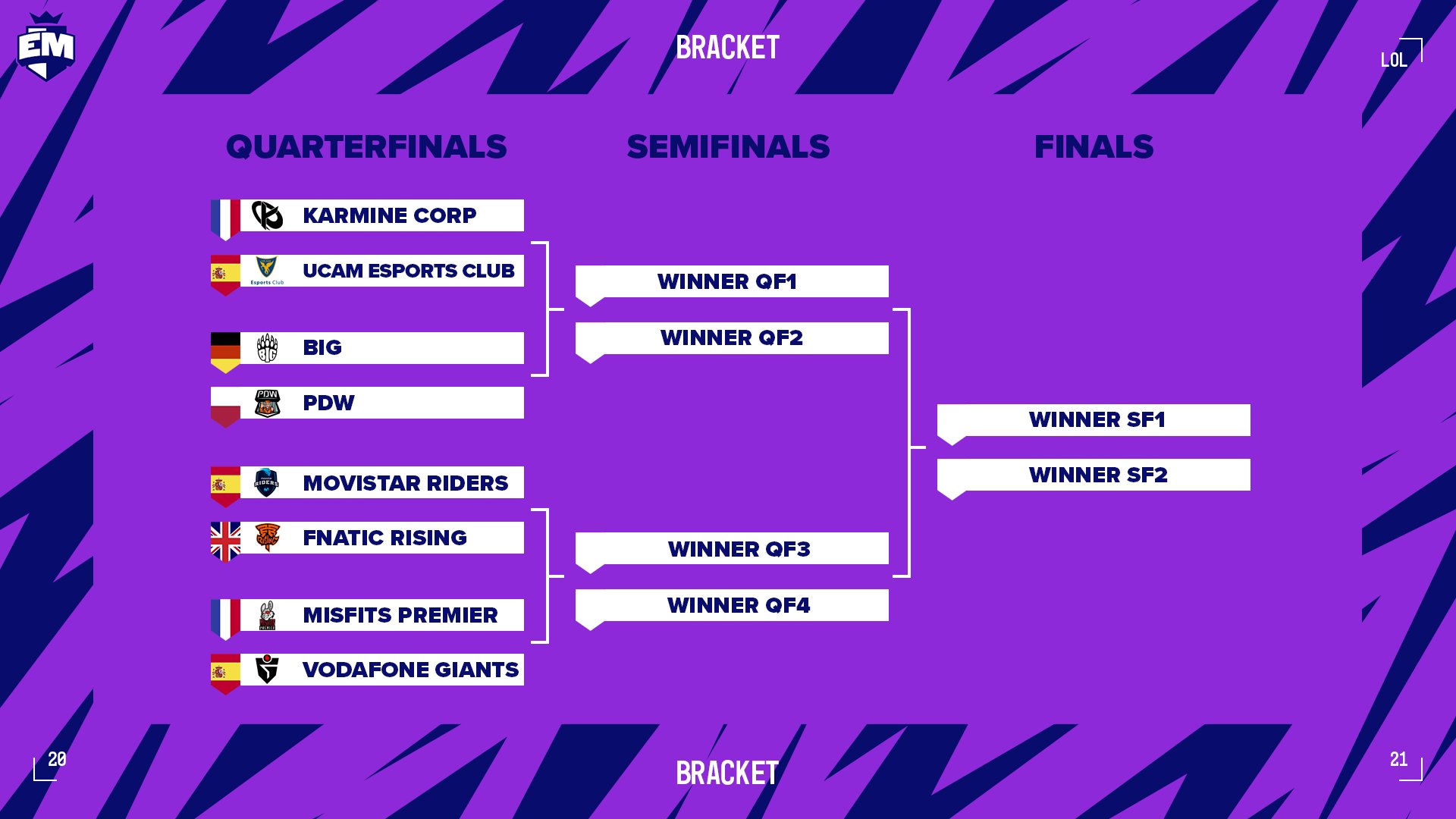 Tutte gli altri incontri verranno disputati venerdì sabato e domenica come di consueto e il livello è di quelli altissimi!
Misfits contro Giants probabilmente è la più interessante ed equilibrata in teoria con lo scontro Attila-Jacktroll, due grandi amici diventati nemici ai tempi dei Vitality ed ora pronti a settare il loro conto sulla landa.
E' una vetrina spettacolare per i nuovi talenti europei, ma anche per i veterani di lusso che hanno deciso di ricominciare dalle ERL, gli occhi degli scout sono puntati su di loro e una buona prestazione qui potrebbe significare LEC il prossimo anno.
Czajek sembra uno di quei fenomeni in rampa di lancio in attesa solo di un team disposto a puntare su di lui l'anno prossimo, vedremo come si comporterà adesso che la posta in palio è altissima, il titolo di predestinato sembra calzargli bene al momento.
Non solo lui però perchè sia Cabochard che Attila si stanno prendendo le luci della ribalta con prestazioni a dir poco fantastiche e mentre uno è un carry molto silenzioso in un ruolo più da supporto, l'altro è senza dubbio la stella del team che assorbe buona parte delle risorse sono per lui.
The top 5 KDAs from the Amazon #EUMasters Group Stage! pic.twitter.com/wRBkCkezht

— Amazon European Masters (@EUMasters) September 8, 2021
Settimana prossima si concluderà la competizione con semifinali e finali concludendo ufficialmente la stagione per le regional league.
I favoriti per la vittoria finale restano i Karmine Corp campioni in carica, non sicurissimi come la scorsa edizione ma decisamente più forti, con una possibile contendente che uscirà dallo scontro PDW vs BIG. Il vincitore dell'EU Masters potrebbe arrivare dalla parte alta del tabellone!