La patch 11.18 è sicuramente una delle piu' grandi realizzate negli ultimi anni da parte di Riot Games, ha portato nella landa grandi cambiamenti per rivoluzionare un minimo il meta e aggiustare il tiro su alcuni campioni da troppo tempo sulla cresta dell'onda.
Il valore di questa patch aumenta considerando che è quella designata per i mondiali, o almeno la prima parte di essi.
Infatti come dichiarato nelle settimane passate i mondiali si divideranno in due patch, la 11.18 e la 11.19 con la prima delle due volta a rivoluzionare il meta attuale mentre la seconda avrà il compito di limare gli ultimi dettagli e in casi estremi di rimediare ad eventuali errori commessi nella 11.18.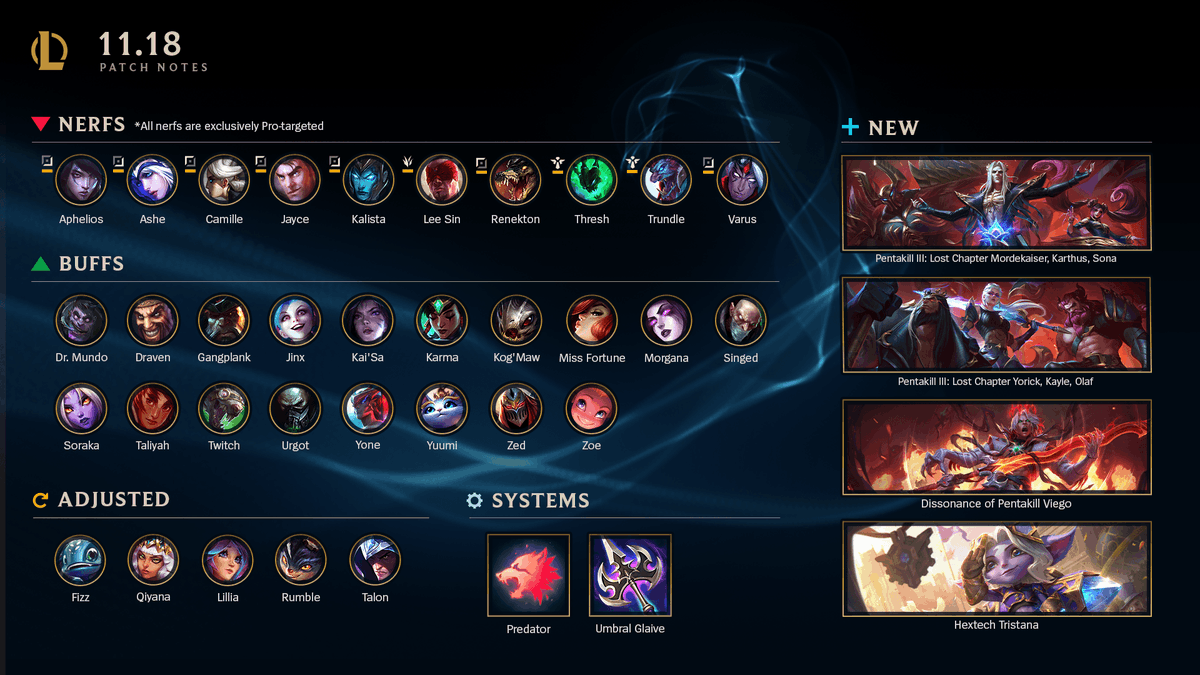 Una patch concentrata molto sul competitivo come abbiamo visto dai nerf ai vari Renekton, Aphelios, Jayce ecc quindi l'attenzione sull'evitare bug e problematiche indesiderate doveva essere massima, eppure non è stato cosi.
Infatti poche ore fa Jeevun Sidhu, lead game designer del Summoner Rift team ha pubblicamente chiesto scusa ai giocatori per i molteplici bug riscontrati dopo l'aggiornamento e i problemi di comunicazione su eventuali modifiche non annunciate propriamente.
Nei vari tweet fatti vengono evidenziati bug presenti sul Predator non evidenziato a dovere a schermo, degli errori nel cambiamento della R di Dr.Mundo e nell'applicazione delle ferite gravi di Singed nel suo kit
2) Dr. Mundo: the extra HP on his R was incorrectly communicated and tool tipped as bonus health; it's actually base health (and so does not count for bonus HP ratios). We did this to minimize the impact the substantial risk of swinging his power level too much.

(2/6)

— Jeevun Sidhu (@JeevunSidhu) September 9, 2021
Mentre questi sono bug "minimali" o di comunicazione pura da parte del balance team i bug presenti su Qiyana e Talyiah stanno impattando l'esperienza sulla landa degli evocatori da parte dei giocatori.
I bug di Talyiah sembrano essere due di cui uno molto complicato da risolvere mentre per Qiyana la sua nuova combo Q+E manca il bersaglio anche su stun e "knockback" quando dovrebbe avere un'automira pensata per non mancare l'avversario in quel tipo di situazioni.
5) Taliyah: We're aware of two bugs here. We have a fix for one, and the other is pretty tricky. We're actively working on it.

(5/6)

— Jeevun Sidhu (@JeevunSidhu) September 9, 2021
Poche ore successive a questo post è arrivato un hotfix riguardante proprio la combo di Qyiana e la W di Janna che non veniva applicata su sè stessa, un problema che le era costata un 4% di winrate, un numero altissimo.
Two micropatches that just went out:

1) Fixed an issue where some knockbacks would break Qiyana's Q+E auto-aim unintentionally. We'll be monitoring for other issues with this change.

2) Janna's W will correctly persist on her.

— Jeevun Sidhu (@JeevunSidhu) September 10, 2021
Situazione ostica al momento per il balance team, nonostante la grandezza della patch l'importanza data a essa soprattutto per il mondiale non permetteva errori eppure alcune criticità sono state incontrate e proprio su campioni pronti a rientrare prepotentemente nel meta competitivo.
I sincerely apologize for the miscommunications and bugs here. This was a huge patch, and we're sorry we let any of you down on patch day. You should be able to expect better from us, and we'll do our best to avoid these mistakes in the future.

(6/6)

— Jeevun Sidhu (@JeevunSidhu) September 9, 2021