Giorni infuocati attorno ai G2 Esports!
Dopo la stagione conclusasi con il mancato raggiungimento dei mondiali e la sconfitta contro i Fnatic, il proprietario della squadra "Ocelote" si è ufficialmente messo al lavoro per rivoluzionare l'attuale line up che ha mancato un obiettivo assolutamente alla sua portata.
La prima mossa è stata quella di rinnovare il contratto di Caps il midlaner della squadra ed ancora uno dei migliori talenti Europei, mai messo in discussione anche nel periodo peggiore.
Wunder, al contrario, sembra ufficialmente messo alla porta dopo prestazioni a dir poco orribili nei playoff, l'indizio ci arriva dal suo account di League of Legends dove si è chiamato "toplaner disoccupato" lasciando poco spazio all'immaginazione.
— LOLPros (@LOLProsGG) September 14, 2021
Secondo Dot Esports i G2 sembrano aver esagerato nel cercare nuovi giocatori però.
Mentre continuano i tryout con tantissimi ragazzi provenienti dalle ERL, i Mad Lions hanno accusato i G2 di "tampering", ossia di aver disturbato un giocatore sotto contratto con un'altra squadra sondando la sua futura disponibilità.
In situazioni come questa qualunque interazione tra giocatore e terza parte deve essere fatta con il benestare dell'organizzazione che possiede il cartellino, ma, in ogni caso, il primo contatto deve avvenire tramite il manager e non con il giocatore stesso.
Sources: @MADLions_EN has accused @G2esports of tampering and in a recent owners' meeting, called for a vote that passed 8-2 asking the #LEC to push Riot Global for rule revisions.

Riot tells @DotEsports that it has not received a formal complaint.https://t.co/iLUSYDdvu9

— Jacob Wolf (@JacobWolf) September 15, 2021
In mente vengono subito due giocatori, compagni di lane, Kaiser e Carzzy.
Il tedesco, fresco di rinnovo, sarebbe l'unico in grado di sostituire degnamente Mikyx, senza neanche dirlo il prezzo del cartellino sarebbe di quelli importanti, forse uno dei più alti di sempre per l'Europa.
D'altro canto Carzzy è in scadenza e, senza novità riguardo il suo rinnovo, l'opzione di andare in free agency sembra essere concreta per lui. Personalmente non lo ritengo un miglioramento rispetto a Rekkles, ma come potete immaginare Carlos ha le mani ovunque e ogni talento degno di nota è sotto il suo occhio attento.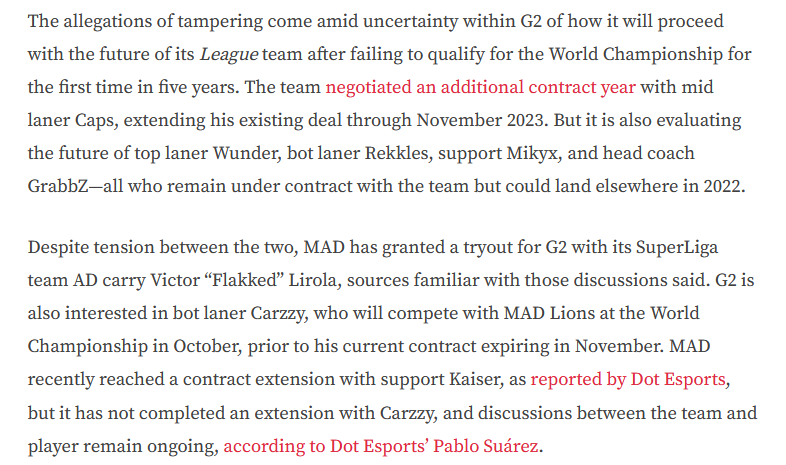 Questa accusa dei Mad Lions a Riot Games ha provocato una votazione immediata da parte dei proprietari sul cambiamento di queste regole riguardo il "tampering" in quanto non sono chiare e non hanno punizioni esemplari, permettendo a chiunque di stare in una zona "grigia" ed evitare sanzioni.
Nono stante questo
Il mercato non è ancora aperto e già i primi drama escono fuori, preparatevi perchè questa sessione potrebbe essere la più grande di sempre, soprattutto quando è coinvolto un personaggio come Ocelote.