Fifa 22, gioco sviluppato da Electronic Arts, è finalmente disponibile negli scaffali di tutti i negozi e negli store online!.
Ovviamente l'uscita del gioco è stata accompagnata dal primo evento ufficiale di questa stagione, i "Ones to Watch" che sono diventati ormai un classico della saga calcistica canadese.
L'evento conosciuto ormai da anni segue la "nuova" moda lanciata recentemente da EA, ossia quella di aumentare il numero di carte speciali spalmando i giocatori disponibili in due squadre per poi riunirli tutti alla fine dell'evento.
Durerà piu' di due settimane e la prima squadra presentata qui sotto non è niente per niente male.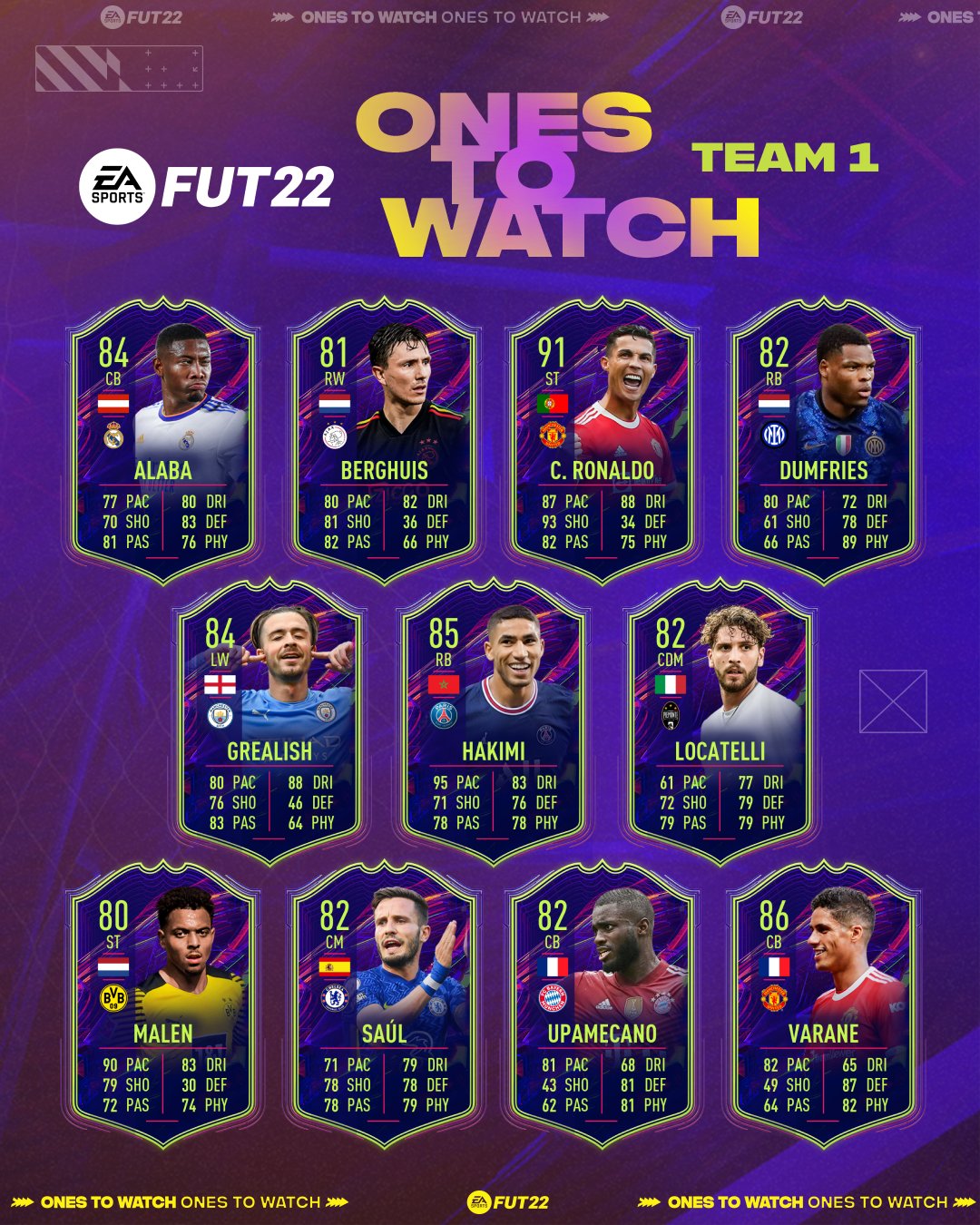 Neanche a dirlo Varane e Cristiano Ronaldo spiccano su tutti ma la sessione estiva di calciomercato è stata a dir poco esplosiva: Alaba, Hakimi, Upamecano, tutte carte in meta che farebbero davvero comodo nella propria squadra.
Ricordiamo che gli "Ones to Watch" sono carte "live", ossia aumentano gli attributi di essa ogni volta che il giocatore riceve una versione in forma durante l'anno.
La novità di quest'anno è l'upgrade possibile se la squadra della carta di turno vincesse 5 delle prossime 10 partite in casa, non una possibilità remota per queste grandissime squadre presenti!
Arrivati nei pacchi venerdi alle 19, dureranno una settimana prima di lasciare spazio alla seconda squadra, nella terza settimana torneranno nei pacchi per riunirsi con l'altra squadra.
Inoltre sono stati aggiunti tramite sfida creazione rosa e obiettivi le versioni "Ones to Watch" di Andre Silva e Camavinga!