Mercoledi è giorno di "Squadra della Settimana" su Fifa!
Quest'anno sembra sia cambiato qualcosa nelle modalità di rilascio della classica squadra della settimana del mercoledi.
Infatti non viene rilasciata alle 16:00 come ogni volta nei canali social della EA ma direttamente alle 19:00 e tramite la classica schermata di gioco
Solo qualche minuto dopo è arrivata la notizia tramite twitter e sembra che da ora in avanti questa sarà la nuova prassi!
Team of the Week 3️⃣ is live ❗️. Some of the best performances from around the world of football are recognized in #TOTW 3. In #FIFA22 now 🙌 pic.twitter.com/4S7kFuNTui

— EA SPORTS FIFA (@EASPORTSFIFA) October 6, 2021
Vi lascio l'immagine in alta risoluzione e perfetta da vedere qui sotto e nel mentre analizzeremo qualche carta che sicuramente occuperà un posto nel meta futuro.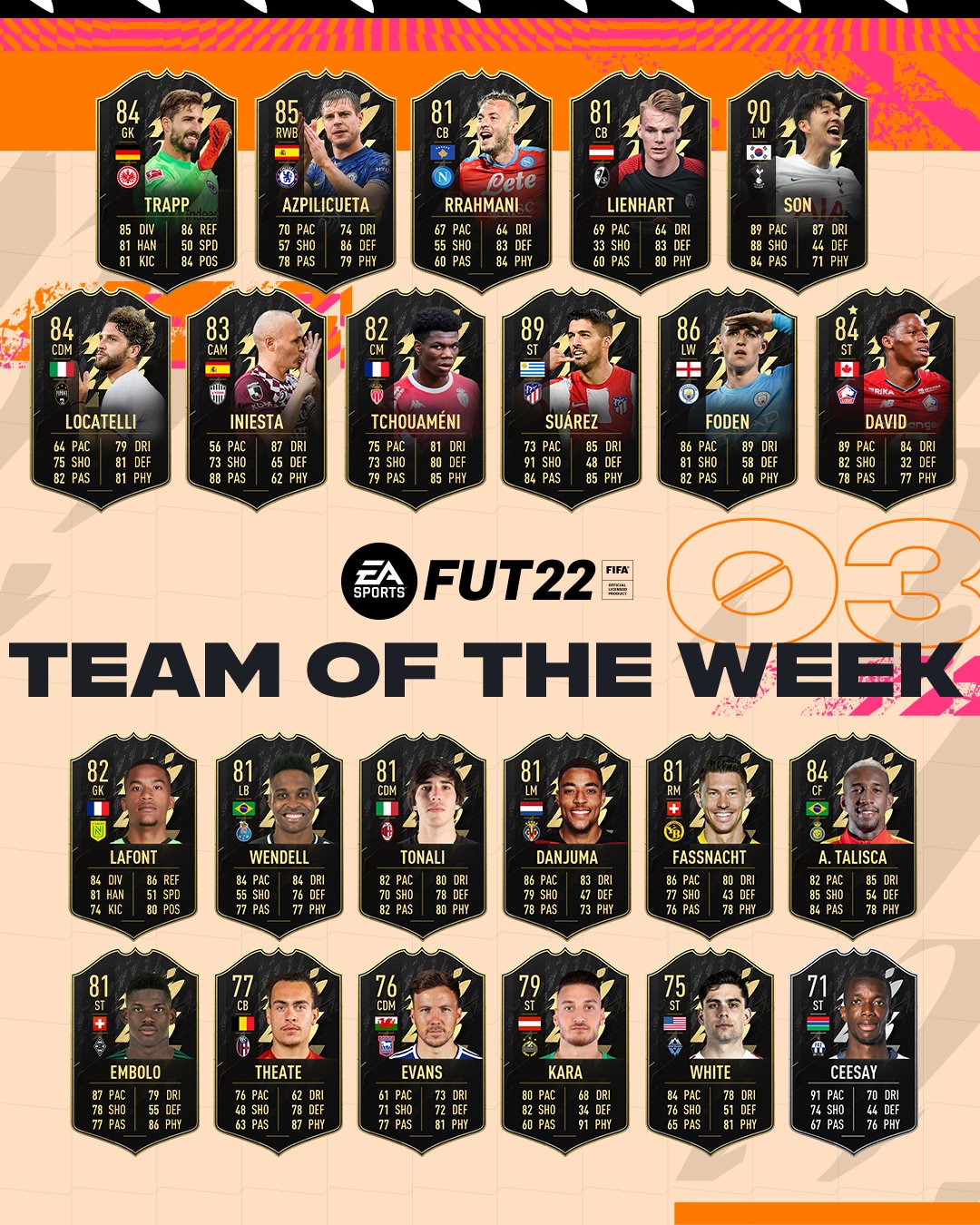 Son è senza dubbio il top player di questa settimana, molto piu' di Suarez troppo limitato dalla scarsa velocità.
Il Sud Coreano era già molto utilizzato ma non quanto lo sarà con questa versione if, l'upgrade alla velocità e al tiro faranno sicuramente comodo.
Stuzzicano Foden e David, la carta con ulteriore upgrade e che aumenta il parco attaccanti per la Ligue 1.
Tchouameni e Tonali invece sono delle versioni davvero utilizzabili e interessanti di due carte che erano troppo in deficit rispetto alle altre e che in un modo o un altro necessitavano di una versione speciale per fare gola.
Locatelli e Anderson Talisca sono invece le prime carte "Ones to watch" a ricevere un "if" e quindi a vedere il primo upgrade di questa versione live!
Questa "Squadra della Settimana" è disponibile da ieri e durerà come sempre per tutta la settimana fino al prossimo mercoledi!