Il calendario di Fifa quest'anno è il piu' fitto di sempre!
Una volta finito un evento, non ci sarà letteralmente tempo di respirare perchè un altro è già in procinto di partire.
Sono appena usciti dai pacchetti le carte "Ones to watch" e come preannunciato tramite i loro canali social l'evento "Road to Knockouts" è qui.
🏆 Road to the 𝙆𝙣𝙤𝙘𝙠𝙤𝙪𝙩𝙨 🏆

-Earn upgrades if the players' clubs reach the Knockout Stage of their European competition 📈

-Get a potential second ratings boost if they win 3️⃣ of their next 4️⃣ Group Stage matches ⏫

Learn more: https://t.co/ShEaD63Lj5 pic.twitter.com/xc2j1Ld5jC

— EA SPORTS FIFA (@EASPORTSFIFA) October 15, 2021
Il tema come potete immaginare è sulle competizioni internazionali di club, Champions League, Europa League e Conference League.
Tutte le carte che usciranno oltre ad essere già potenziate di suo, riceveranno ulteriori miglioramenti in caso del passaggio del girone o di 3 vittorie nelle ultime 4 partite di coppa.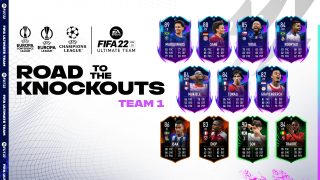 La durata sarà ovviamente di due settimane e la prima squadra mostrata è davvero elitè, rispettando l'hype anticipato nei giorni precedenti.
:
Tutte le carte sono potenzialmente utitlizzabili, oltre ad avere una grossa possibilità di upgrade ulteriore.
Tonali e Vidal aumentano la varietà della Serie A a centrocampo, Rodrygo e Isaak invece per La Liga.
Oltre a queste 11 carte è arrivata l'sbc di De Ligt decisamente migliore rispetto alla sua versione originale e la carta obiettivo di Andrè che tra tutte è decisamente la peggiore (e ovviamente gratis)
#DeLigt Road to the Knockouts SBC now live in #FUThttps://t.co/WgmN5hUG3g 🇳🇱
Disponibile la sfida dell'olandese pic.twitter.com/yHeInCvArZ

— FIFAUTITA (@fifautita) October 15, 2021
Per tutta la settimana saranno disponibili nei pacchetti mentre da venerdi prossimo sarà disponibile la seconda squadra annunciata del primo vero grande evento targato Electronic Arts!