La seconda parte del nuovissimo evento targato EA è qui!
Il loro obiettivo è chiaro quest'anno, non ci sarà una settimana senza carte speciali presenti nei pacchi e l'inizio sta confermando questa tesi.
Ogni venerdi alle ore 19 verrà rilasciata qualche sorta di evento all'interno del gioco, ora siamo alla seconda squadra "Road to knockout", settimana prossima toccherà alle classiche carte "Halloween".
Vediamo quindi quale è la squadra speciale immessa nei pacchi oggi, tenendo a mente che molte carte erano state leakate durante i giorni precedenti riducendo effettivamente l'hype dei fan.
We go again 🤩🏆

Road to the Knockouts: Team 2️⃣

-More Special Player Items that get upgrades if their clubs reach the Knockout Stage of their European competition ↗️

-Get a potential 2nd boost w/ 3️⃣ wins in 4️⃣ Group Stage matches 📈

Learn more ➡️ https://t.co/ShEaD6lmHF pic.twitter.com/vJsPKUelpK

— EA SPORTS FIFA (@EASPORTSFIFA) October 22, 2021
Il metodo di upgrade di queste carte non è cambiato rispetto la scorsa settimana, un +1 in caso di qualificazione al knockout stage e un altro +1 con 3 vittorie nelle ultime 4 partite di coppa.
Diamo uno sguardo approfondito a queste carte appena rilasciate però e vediamo chi potrebbe entrare nella vostra squadra ideale e chi starebbe bene al proprio posto.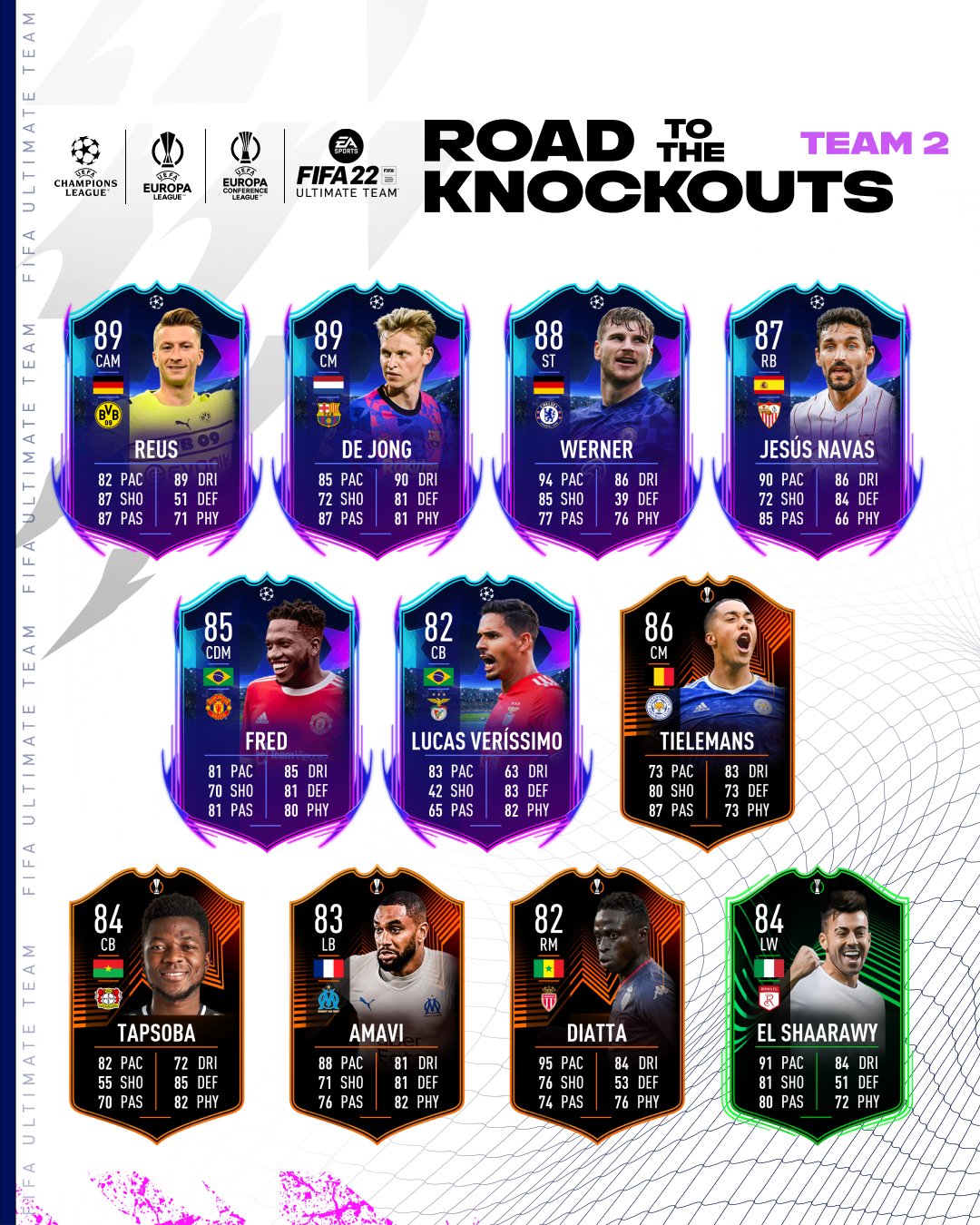 Reus, De Jong e Fred sono sicuramente le carte migliori di questo team, hanno buone possibilità di ricevere almeno un upgrade e già queste versioni meritano la vostra attenzione.
Carte come Diatta e Tapsoba sono molto buone ma inutilizzabili causa link molto difficili e se per l'esterno destro è valido l'acquisto come super sub, per il difensore del Leverkusen le porte sono sbarrate.
Werner e Jesus Navas hanno dei limiti evidenti tra mosse abilità e forza, per questo si posizionano un passo indietro rispetto alle 3 principali, Lucas Verissimo e Amavi sono invece delle alternative molto valide per le carte meta attuali.
Bernardo Silva è uscito tramite sfida creazione rosa, costoso ma sicuro di upgrade, mentre Kruse è la carta obiettivi di questo secondo team!
#BernardoSilva #RTTK SBChttps://t.co/i6NvqTCf9M ✅ pic.twitter.com/6QFSESrCU3

— FIFAUTITA (@fifautita) October 22, 2021
Le carte resteranno nei pacchi per una settimana, ne verranno aggiunte altre tre questa domenica e finiranno proprio venerdi prossimo, quando sarà il turno dei famosissimi scream!