Nella giornata di ieri si è svolto l'ultimo quarto di finale del Mondiale di League of Legends, in Islanda si sta avvicinando la fine di questo evento e i quattro semifinalisti rimasti promettono battaglia fino alla fine!
LAST ONE IN

The fourth #Worlds2021 Quarterfinal starts NOW!

📺 https://t.co/JQuVelGYBL pic.twitter.com/UaPiWOpQEZ

— LoL Esports (@lolesports) October 25, 2021
Gen.G e Cloud9 si ritrovate una contro l'altra per aggiudicarsi l'ultima sedia a disposizione nel tavolo della semifinale.
In caso di vittoria dei Gen.G ci sarebbero dopo molti anni due semifinali solo asiatiche, senza alcun team occidentale all'interno, G2 e Fnatic hanno portato in alto la bandiera europea e occidentale nelle competizioni internazionali, purtroppo quest'anno la debacle dei G2 e la situazione poco chiara e serena all'interno dei Fnatic ha mostrato i problemi evidenti di due regioni lontane anni luce dalla vetta.
I pronostici per questa serie erano vari, i favori del pronostico erano incostanti e anche se pendevano leggermente verso la formazione coreana la presenza di Perkz sola faceva coltivare speranze per una vittoria Nord Americana.
https://twitter.com/lolesports/status/1452606390955085832?s=20
Questa edizione del mondiale ha avuto dei gironi incredibili, uno spettacolo visto raramente, eppure i quarti di finale sono stati tanto veloci quanto deludenti.
Un'altra serie totalmente verso un lato solo e un 3-0 altrettanto importante quanto sorprendente.
I Gen.G piegano anche l'ultima resistenza occidentale e obliterano i Cloud9 ottenendo l'ultimo passo per la semifinale.
SEMIFINALS SECURED:@GenG get the 3-0! #Worlds2021 pic.twitter.com/IPePpkWCRL

— LoL Esports (@lolesports) October 25, 2021
Delle partite non c'è molto da dire, il primo game ha dato spettacolo a lungo e mostrato anche un certo equilibrio tra i due team, gli altri due non hanno seguito questo copione e la caduta dell'ultimo team Nord Americano è stata inesorabile e triste da guardare, molto simile a quella di venerdì scorso con protagonista Chovy.
CLOUD9 GET THE ACE! #Worlds2021 pic.twitter.com/x6fvgehmrk

— LoL Esports (@lolesports) October 25, 2021
Per una squadra che scende, una che sale.
I Gen.G approdano in semifinale mondiale per la prima volta dopo nella loro storia dopo il cambio di nome, per molti di quei player non si tratta di una prima volta, visto che Ruler su tutti ha un titolo mondiale, eppure è una vera e propria liberazione per loro.
Una squadra che ha sempre deluso nei momenti decisivi si è meritatamente guadagnata una top 4 mondiale e ha delle possibilità concrete di approdare in finale e renderla tutta coreana.
Nella debacle occidentale la Corea si alza orgogliosa, 4 team portati ai quarti di finale, sicuramente uno in finale e un livello di gioco mostrato nettamente superiore alle aspettative, questo è decisamente l'anno dell'LCK e pochi avranno da dire qualcosa in contrario.
Semifinals mid lane is STACKED! pic.twitter.com/KwW5QzFgXI

— LoL Esports (@lolesports) October 25, 2021
T1 vs Damwon KIA, EDG vs Gen.G saranno le due semifinali, il livello della competizione è al massimo possibile e dopo alcuni giorni di riposo a dir poco meritati Sabato e Domenica avremo le nostre due finaliste.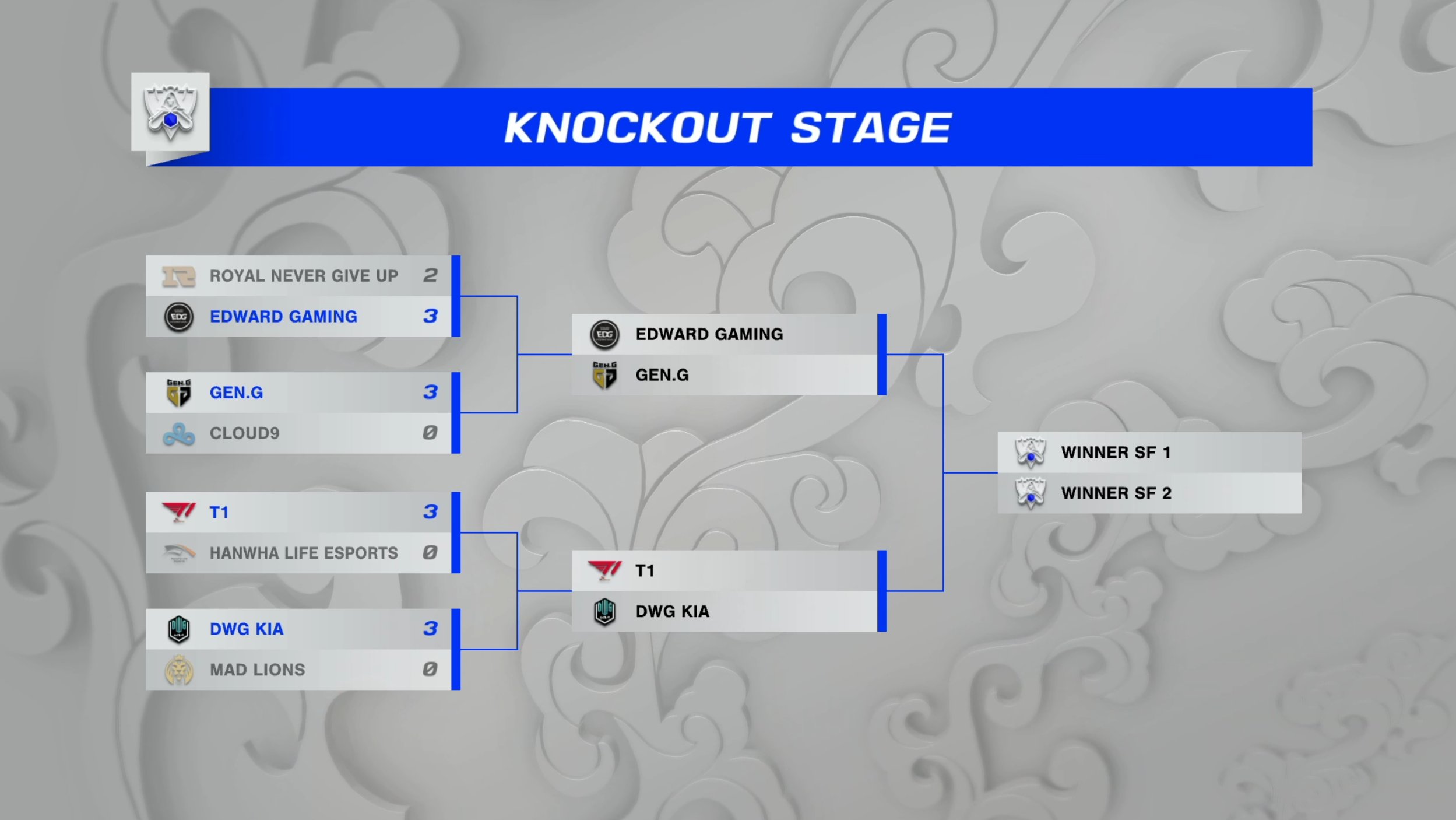 Una piccola nota in chiusura per il fallimento Europeo in questa competizione, in situazioni come queste si vede la grandezza di organizzazioni storiche come G2 e Fnatic, la costanza nell'essere sempre al livello massimo richiesto ha fatto loro e i loro giocatori delle vere leggende in questo mondo.
Non ci si può aspettare lo stesso da giocatori altrettanto giovani e organizzazioni appena arrivate in vetta e per questo gridare al fallimento è forse sbagliato.