Buon compleanno Ultimate Team!
Marzo è sempre stato il mese dedicato ai Fut Birthday sin dalla prima volta che sono arrivati nel gioco nel 2019.
L'occasione è di quelle ghiotte, EA festeggia 13 anni dall'uscita di questa modalità ormai storica e sempre più pioniera dei ricavi della compagnia introducendo un evento dedicato proprio a loro!
Look back on 13 years of #FUT in #FIFA22.

-Special Player Items with five-star weak foot or skill move upgrades
-Login bonuses
-SBCs
-FUT Birthday Swaps

Learn more: https://t.co/TqBdVNDJmD pic.twitter.com/rGs6QK9bTb

— EA SPORTS FIFA (@EASPORTSFIFA) March 4, 2022
Il sistema a token introdotto nei mesi precedenti e apprezzato è tornato anche qui, i giocatori avranno la possibilità di ottenerli tramite varie sfide nel gioco e usarli per ottenere pacchetti o giocatori speciali.
Inoltre per festeggiare a dovere gli utenti riceveranno premi quotidiani in base ai loro accessi durante l'anno e la costanza di gioco.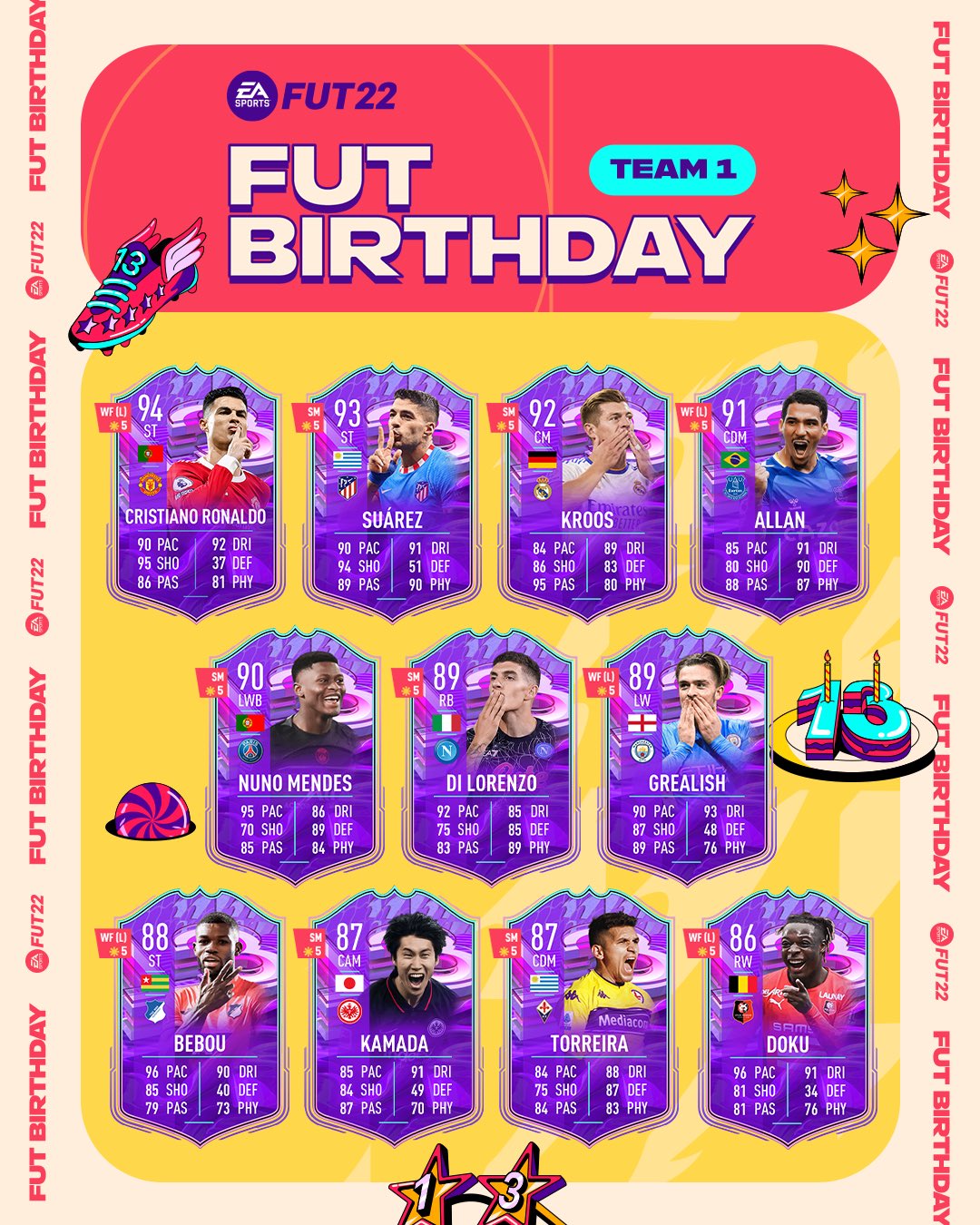 La prima squadra è la seguente e ogni singola carta presente qui può essere usata senza alcun problema!
I Fut Birthday introducono ogni anno versioni molto potenziate dei giocatori selezionati e oltre a coprire alcuni punti deboli evidenti (avete visto Kroos?) modificano propriamente le mosse abilità e piede debole! Cristiano Ronaldo vi saluta dall'alto del suo "5" di piede debole ora!
Si tratta di un periodo di festa per la community e quale migliore momento per inserire finalmente nel gioco il primo round di Icon Prime Moments!
Due settimane di contenuti continui e di pacchetti da aprire, buon compleanno Fut!