Dopo 8 settimane di League of Legends senza sosta, 18 partite e tante sorprese finalmente la regular season di LEC è arrivata al capolinea!
Fino all'ultimo giorno gli ultimi due posti disponibili per la postseason sono stati in discussione, eppure nonostante qualche inaspettata sorpresa durante la superweek non è riuscito al miracolo nè ai Mad Lions nè agli SK, che hanno lasciato il passo ai più favoriti Excel e Vitality.
Cosi ecco che si delinea il tabellone dei playoff di questo spring split 2022, che ovviamente verrà giocato in quel di Berlino dall'inizio alla fine e non in un'altra location come era consuetudine prima dell'avvento del Covid.
I Magnifici sei!
Ecco quindi le sei squadre che tra tre settimane esatte si ritroveranno nella Landa per iniziare la propria scalata: In ordine di classifica Rogue, Fnatic, Misfits, G2, Excel e Vitality.
The final 2022 #LEC Spring Regular Season standings!

1) #RGEWIN (14-4)
2) #FNCWIN (13-5)
3) #MSFWIN (12-6)
4) #G2WIN (11-7)
5) #XLWIN (9-9)
6) #VITWIN (9-9)

7) #MADWIN (8-10)
8) #SKWIN (7-11)
9) #BDSWIN (4-14)
10) #ASTWIN (3-15)

— LEC (@LEC) March 6, 2022
Il format è lo stesso degli anni passati: i primi quattro della classifica partiranno dal winner bracket e riceveranno una seconda occasione in caso di sconfitta, il quinto e il sesto invece dovranno iniziare dal fondo del bracket, senza alcuna possibilità di salvezza e con l'obbligo di vincere sempre per arrivare in finale.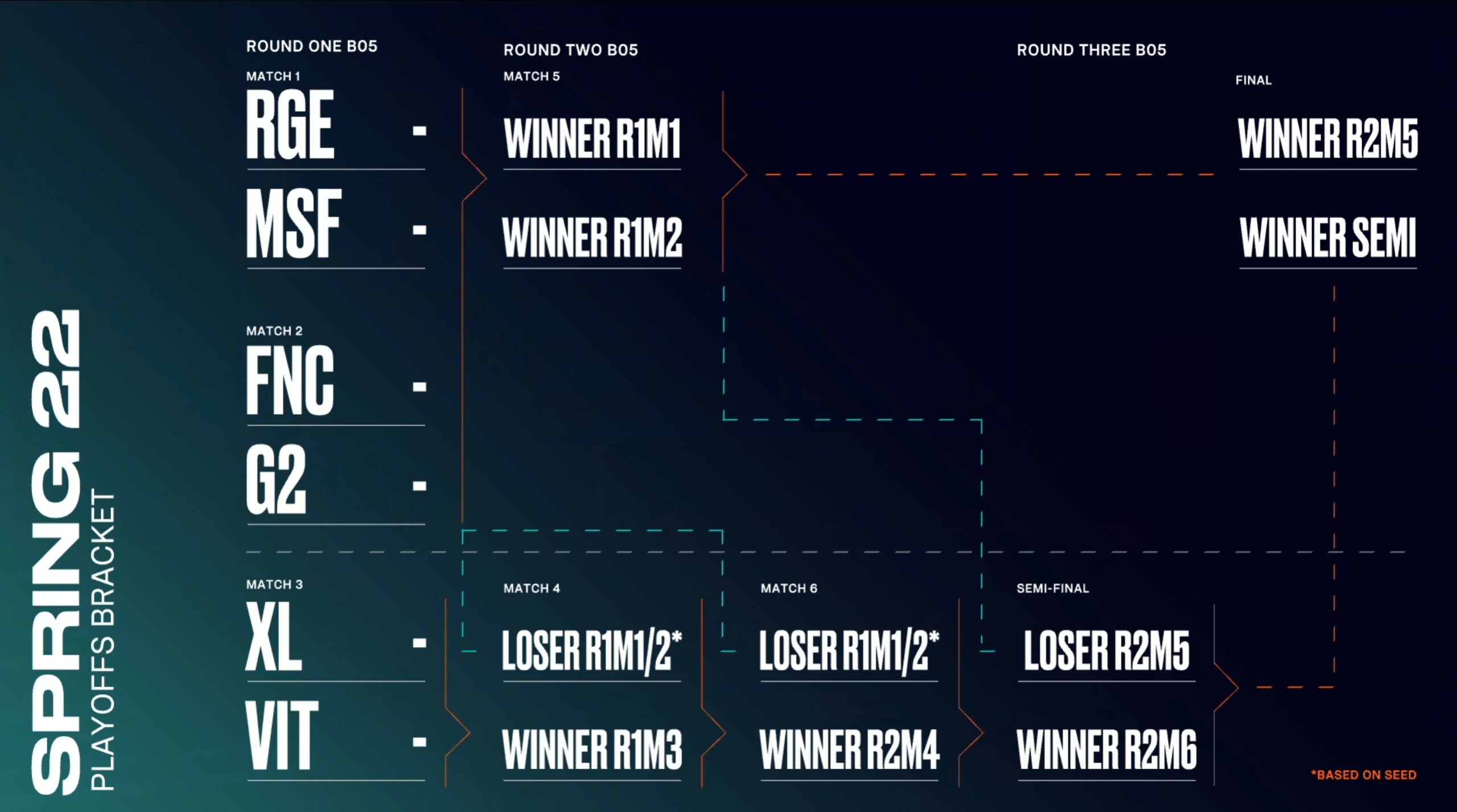 Venerdi 25 si inizierà con Rogue vs Misfits, Sabato la sfida storica e mai banale tra Fnatic vs G2 e per chiudere la prima fase Domenica ci sarà Excel vs Vitality.
3 settimane di riposo e preparazione ci aspettano prima del periodo più eccitante dell'Europa di League of Legends!