I Royal Never Give Up e Riot sono ufficialmente nell'occhio del ciclone!
Al centro del problema il ping, già discusso in lungo e in largo dalla community, oggetto di un comunicato ufficiale da parte di Riot Games durante la mattinata.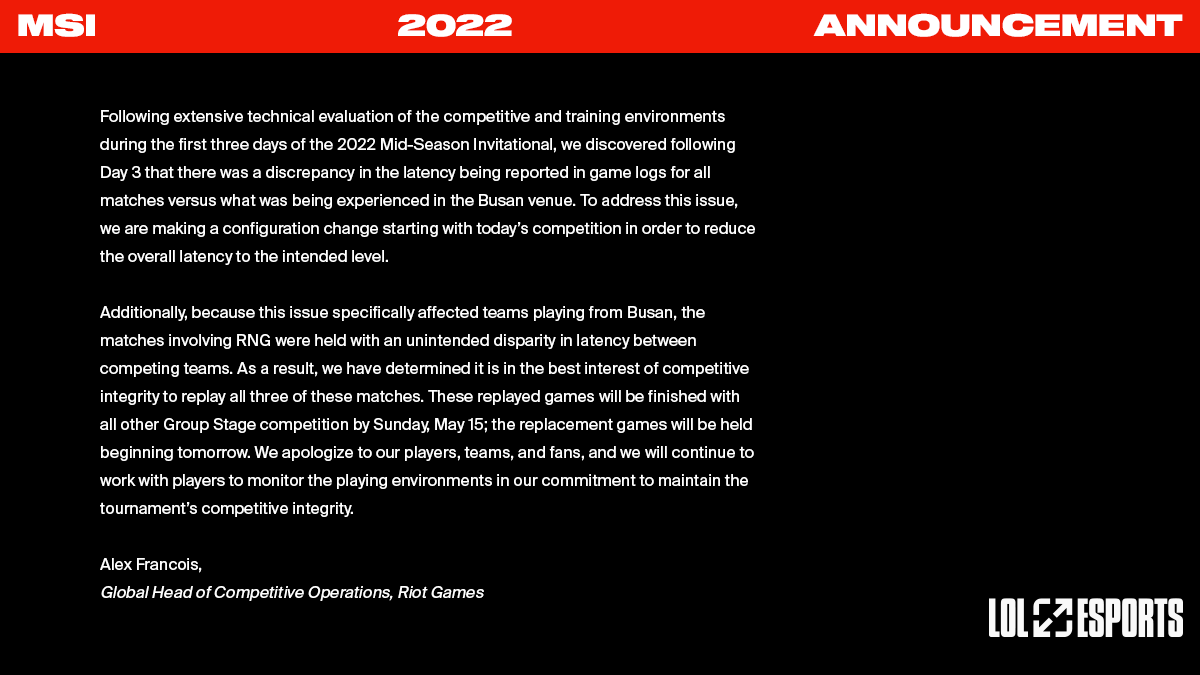 Comunicato controverso e shock, che annuncia dei problemi tecnici di latenza avuti durante tutte le partite negli studi di Busan, problemi non riscontrati da parte degli RNG in quanto non presenti in studio per via del lockdown totale di Shanghai.
Secondo l'organizzazione i problemi sono stati confermati anche da loro dopo un'indagine approfondita e di conseguenza c'è stato un reset totale del gruppo e un reschedule degli incontri con gli RNG protagonisti alla giornata di domani che avrà ben 9 partite!
Lord have mercy

9 best of 1s ? pic.twitter.com/0GeRfIH6rb

— Marc (@Caedrel) May 13, 2022
Questo a causa della discrepanza di ping e latenza dei team coinvolti, un fatto che ha minato l'integrità di questa prima parte di competizione.
L'isolamento e l'impossibilità di arrivare in loco da parte della rappresentanza LPL non ha niente a che vedere con le scelte di Riot Games, infatti la città di Shanghai sin da fine Marzo è totalmente chiusa e nessun cittadino può uscire dalla propria abitazione.
Con questa situazione al limite si è cercati di lavorare al meglio per garantire un evento giusto, nonostante ciò resteranno sempre dubbi e critiche.