E' il secondo team dei Rulebreakers quello appena arrivato su Ultimate Team e Frank Ribery è la sua punta di diamante. L'evento dedicato al periodo di Halloween che mixa le statistiche delle carte scelte per favorire un meta più diverso vedrà la propria conclusione questa domenica con l'uscita della mini release: 3 ulteriori giocatori che completeranno il secondo team.
More gamechangers to mix up your squad 🔓⚽️ #Rulebreakers Team 2, transforming players' style of play with game-changing attribute adjustments: https://t.co/sWyFqbeCle#FIFA23 pic.twitter.com/EUPgW8C9Rt

— EA SPORTS FIFA (@EASPORTSFIFA) October 21, 2022
Oltre al sopracitato Ribery, che con le sue 5 stelle di piede debole e mosse abilità diventa una delle carte più forti di questo FIFA, Sergio Ramos è l'altra stella assoluta e uno dei difensori migliori in questo momento per via della sua fisicità e agilità, oltre al boost alla velocità assolutamente necessario.
Sissoko torna a essere il terrore del centrocampo e un caro (o tremendo, a voi la scelta) ricordo degli anni passati. Havertz e Thiago non possono essere interessanti da provare ma non sono i primi nella lista del meta. Lacroix e Meunier una valida alternativa per chi usa una Bundesliga e vuole cambiare dal solito blocco del Bayern Monaco.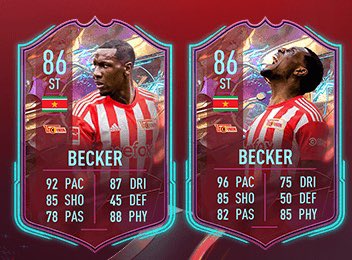 Becker è la Sfida Creazione rosa uscita, con due versioni tra cui scegliere: una con più dribbling o una con una corsa "lenghty".
I Rulebreakers saranno disponibili nei pacchetti fino al prossimo venerdi quando ci sarà il nuovissimo evento chiamato "Out of Position"