L'LEC si rifà il look e preannuncia un 2023 molto intenso, con lo scopo di accorciare il più possibile il gap che si è creato tra la lega europea e le rivali asiatiche, ormai divenuto un vero e proprio canyon.
Come? Aumentando il numero delle partite ufficiali "on stage", inserendo finalmente le best of 3 all'interno del programma e premiando il più possibile la competitiva di ogni squadra.
I rumors, circolati nei mesi scorsi, sono stati confermati nella mattinata di ieri con una conferenza stampa ufficiale.
New level of the competition:

Check out the changes we are making to our ecosystem! #EMEA23 pic.twitter.com/YrC0RLS2Dr

— LEC (@LEC) November 18, 2022
Un 2023 all'insegna dell'espansione, infatti prima ancora che il format a cambiare è stata la visione stessa dell'europa di League of Legends. Turchia, CIS (Russia) e Asia centrale e Nord Africa (o MENA) saranno considerate come parte dell'ecosistema LEC con la conseguenza che i giocatori proveniente da tali regioni non saranno più import ma locali, lasciando spazio agli slot per l'Asia o il Nord America.
Andando invece sul format: si passa da 2 a 3 split. A Gennaio ci sarà il Winter split, seguito dallo Spring e infine il Summer split. 9 partite a split nel corso di tre superweek (si giocherà dal Venerdi alla Domenica) prima di andare direttamente ai playoff, dove le migliori 8 squadre verranno divise in due gruppi (le partite saranno esclusivamente best of 3 qui). Le quattro uscenti vincitrici si giocheranno il titolo di campioni dello split, questa volta tramite best of 5.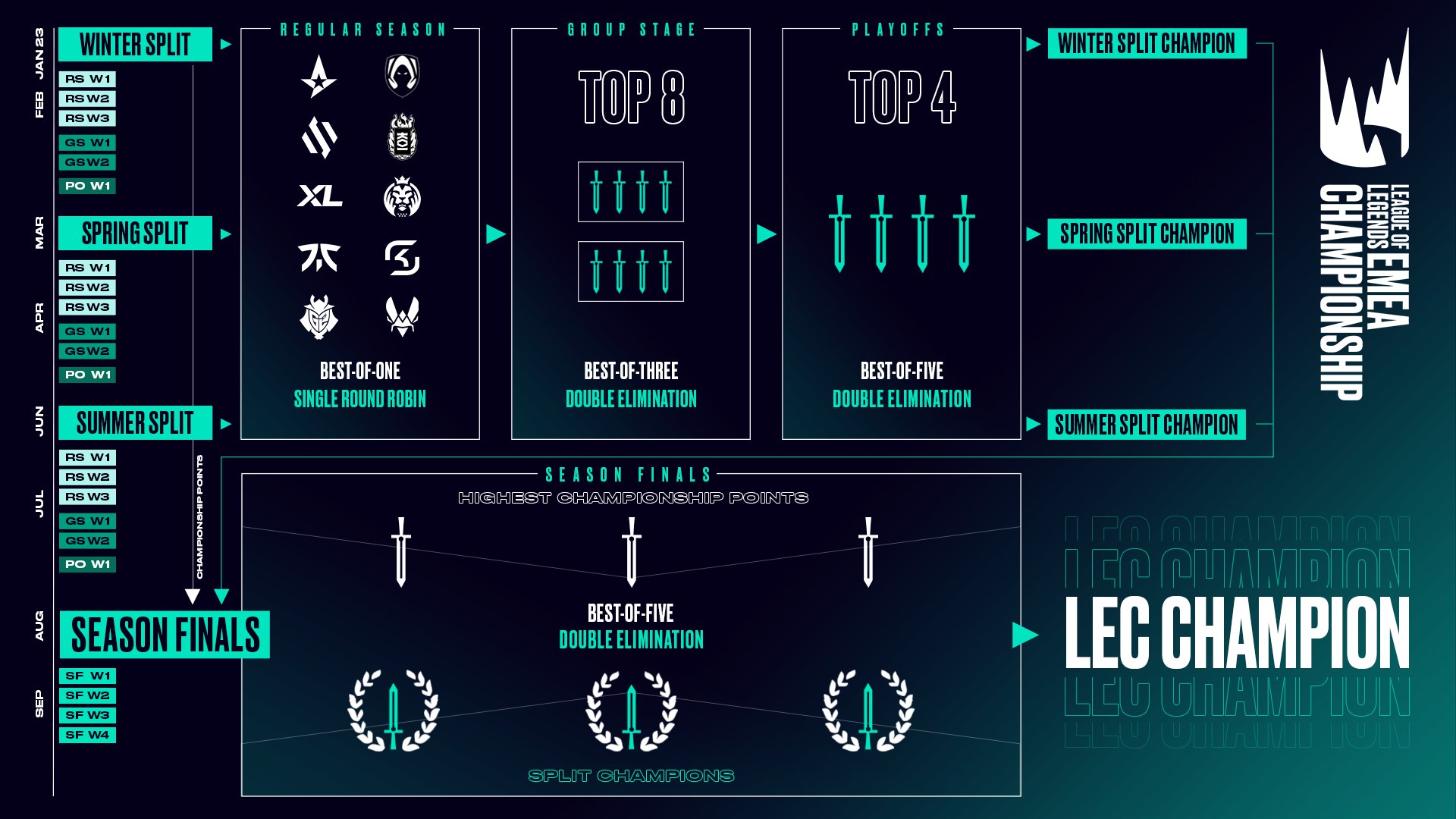 Alla fine dei tre split le migliori 6 squadre accederanno alle Finali LEC, dove ci sarà in palio il titolo di campione insieme all'accesso al prossimo mondiale.
La nuova formula permetterà ai team più competitivi di giocare cosi molte più partite rispetto all'anno precedente e più serie, una richiesta che da qualche anno è ormai costante sia dai fans che dai giocatori stessi.
E l'MSI? Chi parteciperà al Mid Season Invitational? Dalle informazioni ricevute tramite un Q&A post conferenza stampa il team vincitore dello Sprint split otterrà lo spot per la competizione internazionale. Al vincitore del Winter split un posto alle Finali LEC mentre chi alzerà il trofeo del Summer split avrà uno slot per il mondiale, con il seeding che verrà deciso nelle Finali.
Un sistema semplice con qualche dettaglio complicato che comunque riuscirà ad adempire ai propri scopi, offrirà più spettacolo e alzerà il livello di una lega che è sempre più lontana dalla vetta mondiale.